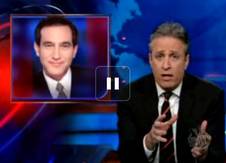 Rick Santelli will not go on John Stewart Show
Rick Santelli is apparently a man that screams aloud when the bailout goes beyond Wall Street. How come rick has not screamed on television about how poorly business journalists have performed over the past several years.
He would not go on the John Stewart Show to defend his position and to defend his network and I cannot understand why he made this decision.

I have lost a lot of respect for most business news reporters. Where are the people that uncover the news before it happens. Where is the investigative journalism spirit.
Since we cannot rely on the SEC our country needs help.