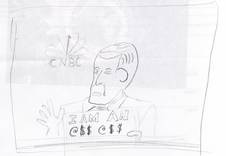 Mario Gabelli makes me sick. What an annoying arrogant man.
Mario Gabelli is the reason why nothing gets done or fixed. People dodge questions. Mario totally blew off Becky Quicks question. Then had the arrogance to tell Joe Kernen he would give him the dollar back he got paid to be on the show...
WTF ? Get this guy off the show and fire him. What a weak man. And then he lies about counting the earnings! Icing on the cake...
Change will never occur when we have leaders like Mario Gabelli. This level of arrogance that runs rampid on Wall Street is the reason why Americans and the International community is so upset.
This guy makes me sick to my stomach.