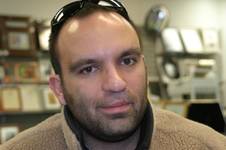 CNBC is now CleavageBC. Rick c'mon man. Warning! Jumping the Shark Warning!
Respectable news anchors like Rick Santelli, Becky Quick, Erin Burnett and many others need to start their own channel. Amanda Drury might have nice breasts but what a joke. If I need to see cleavage while listening to financial news I can open another browser window. CNBC simply crossed the line with this broad in all seriousness.
Did CNBC hire someone from Telemundo or what? LMAO

CNBC has officially jumped the shark with Amanda Drury!